5 Most Dog-Friendly Neighborhoods in Seattle
The best places across the city for Fido to run, play, and call home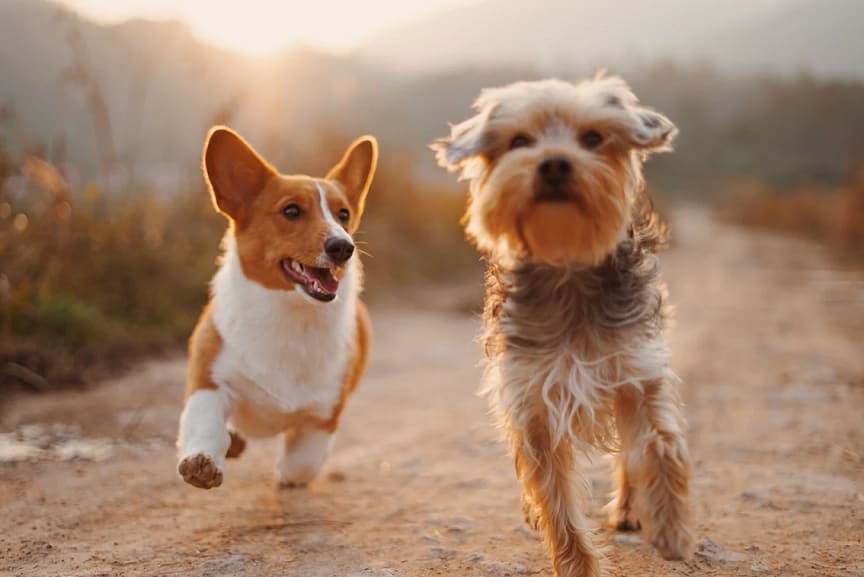 With thousands of acres of parkland and surrounded by mountains, evergreen forests, and waterfront, Seattle is a sprawling urban oasis filled with endless opportunities for adventure. Its unrivaled natural beauty and thriving culture make Seattle a desirable place to spend time outside enjoying all the city has to offer, especially for those with dogs. A walk around any Seattle neighborhood will give you the impression that the city has more canine residents than people, and from over a dozen off-leash parks scattered throughout to a number of dog-friendly restaurants, bars, and shops across the city, it's easy to understand why. While you can find a park or favorable place to spend time with your pup in most areas of Seattle, certain neighborhoods stand out more than others. Consider this your guide to the most dog-friendly areas of the city.

West Seattle

Made up of a number of smaller residential neighborhoods and anchored by its charming Junction commercial area, West Seattle is a laid-back city community with a small-town feel. Its greatest asset is Alki Beach Park, a historic area offering views of Puget Sound and the islands off the coast of Seattle. While dogs are not allowed on the sand, there is a paved path along the water where you can stroll along the beach and feel a world away from the city, and the walk there from West Seattle's neighborhoods offers a bit of exercise, too.

Beyond Alki Beach, West Seattle has acres of trails, forests, and greenspaces to explore with your pup, including Schmitz Preserve Park, a 53-acre park with one of the last stands of old-growth forest in the city, and Me-Kwa-Mooks Park, a 20-acre public park that features a gorgeous waterfront overlook. Small neighborhood parks are also sprinkled throughout West Seattle, putting a substantial patch of grass within walking distance for most.

For less adventure-inclined dogs, West Seattle's residential and commercial areas are also pet-friendly. If you're interested in taking advantage of Seattle's hopping brewery scene, no need to leave your dog at home. West Seattle Brewing Co. in Alki transforms into an informal dog park on the weekend, thanks to its popular dog-friendly patio, Beveridge Place Pub allows well-behaved dogs inside and out, and Prost! West Seattle welcomes pets in with open arms. West Seattle's Junction, the area's commercial area filled with casual eateries, coffeehouses, and unique shops, is also a great place to walk your dog on the weekends and interact with fellow canine neighbors along Junction's streets and at the weekly Sunday farmers market.

South Lake Union

As Seattle's booming tech hub, South Lake Union is one of the city's most buzzing areas teeming with hip spots from restaurants and bars to boutiques and live music venues. With Amazon and a number of other businesses holding offices in the neighborhood, South Lake Union has become a desirable place to live among Seattle's young professionals and those seeking a more modern lifestyle. Its pedestrian-friendly infrastructure contributes to South Lake Union's strong sense of community despite its urban nature, and its 170 acres of parks, lakefront access, and abundance of community amenities make South Lake Union an easy place to have a dog.

Concentrated in a relatively small area, South Lake Union is easy to navigate on foot, making it convenient to walk the dog before and after work, and even in the middle of the day for those with offices nearby, without leaving the neighborhood. South Lake Union's Denny Park is one of the city's fourteen off-leash parks, providing a peaceful place for your pup to roam free right in the middle of the bustle of the city. Walkers—both dogs and their owners—can soak up South Lake Union's greatest views with a walk around the lake trails at Lake Union Park and along the Fairview Walkway.

Among South Lake Union's abundance of critically acclaimed restaurants are a number of dog-friendly spots including Local Terry Ave, a modern local hangout on South Lake Union's main drag with an outdoor patio that allows dogs when open in the summers, and Portage Bay Cafe, a daytime brunch eatery focusing on local, sustainable fare.

University District
​​​​​​​
Removed from the commotion of downtown and embodying the youthful feel of the University of Washington for which it is named, University District is a relaxed Seattle neighborhood perfect for raising families and pets. As a public college, the University of Washington is an open campus, allowing neighborhood residents to take advantage of the beautiful grounds as a relaxed dog-walking space. The 703-acre campus is full of leafy greenery, historical architecture and wide open, clean paths that offer a desirable change of scenery for dog owners on their everyday walks and serve as a big value add for those who call University District home.

University District's wide residential streets also make for pet-friendly living, and the area's real estate, from condo buildings to larger, historic single-family homes, offers options for families with canines of all sizes. The University Village puts many unique shops, restaurants and more at resident's fingertips in an open-air, dog-friendly setting. Many locals love spending time walking around this outdoor shopping center and browsing through the boutiques—you can identify the pet-friendly ones from a small circular silver sticker on their door or window—before or after a meal at Portage Bay Cafe, a popular weekend breakfast and brunch spot serving local, seasonal, and organic dishes near the University's campus.

Magnolia

Positioned on a hilly peninsula jutting into the Puget Sound, Magnolia is an affluent residential neighborhood of Seattle that has a quaint, quiet feel. Home to the city's largest greenspace, Discovery Park, with acres of trails, beaches, meadows, and stunning views, along with impressive real estate ranging in style from Tudors and Cape Cods to Colonials and Craftsmans, Magnolia is one of Seattle's most desirable places to live for both dogs and their owners.

The space Magnolia offers is definitely its main attraction when it comes to dog-friendliness. In the mornings, evenings and on weekends, Discovery Park is full of locals taking their pets out for some exercise on the nearly 12 miles of trails, numerous tranquil open spaces and paths along the dramatic sea cliffs overlooking Puget Sound and the Cascade and Olympic Mountain ranges. This gorgeous park is an immeasurable asset to the quality of life of Magnolia's residents, both canine and human, offering a space to escape the city and soak in a piece of the Pacific Northwest's stunning natural beauty. Magnolia also has an off-leash park—Magnolia Manor—where pups can run free.

Beyond Discovery Park, Magnolia's tree-lined streets and large homes atop beautifully landscaped lots make for the ideal living situation for dog-loving families. A lack of room, either in the house or to run around in, is rare in Magnolia, making it easy to both raise and keep pets happy in this neighborhood.

Wallingford & Fremont

Located on the north shore of Lake Union a few miles north of Seattle's core downtown, Wallingford and Fremont are bustling bohemian neighborhoods with strong post-grad populations from the nearby University of Washington. Full of diverse restaurants, hip bars and quirky outdoor sculptures throughout, the communities of Wallingford and Fremont are welcoming to residents of all walks of life. With a high concentration of pet-friendly spots, dog lovers also flock to these neighborhoods both to live and spend their free time.

Norm's Eatery & Alehouse is known around Seattle as the quintessential dog-friendly neighborhood pub, serving American fare, hosting a number of community events including trivia night and filled with dog-inspired decor. Bar Charlie, Schilling Cider House, and Fremont Brewing Company along Fremont's main drag are all welcoming to dogs, and The Barking Dog Alehouse a bit further north in Phinney Ridge is another local favorite.

Both neighborhoods are bordered to the north by Woodland Park, a 90-acre greenspace with an off-leash area ideal for picnics, barbeques, and walks among pleasant grassy hills and pathways with the whole family, pup included. Woodland Park is split into two separate spaces by Aurora Avenue, with the west side occupied mostly by the Woodland Park Zoo, a large conservation with over 300 species of animals that puts on a popular summer concert series, and the Woodland Park Rose Garden, a landscaped park with benches, a gazebo and water features that enhance the natural beauty of the over 200 varieties of roses in the garden.

Wallingford's quaint downtown commercial area is walkable from both neighborhoods' residential pockets, and the weekly Wednesday farmers market makes for a great excuse to get the dog and family out on a weeknight for a long stroll. Wallingford and Fremont real estate is also favorable for dog families, with larger lots allowing for more yard space for dogs to spend time outside.

Looking for luxury real estate in Seattle, WA so you can have access to these great trails year-round? Contact us today. It would be our pleasure to help you find a piece of Seattle luxury real estate that's right for you.

​​​​​​​